Alyda Faber, recipient of the 2022 J.M. Abraham Atlantic Poetry Award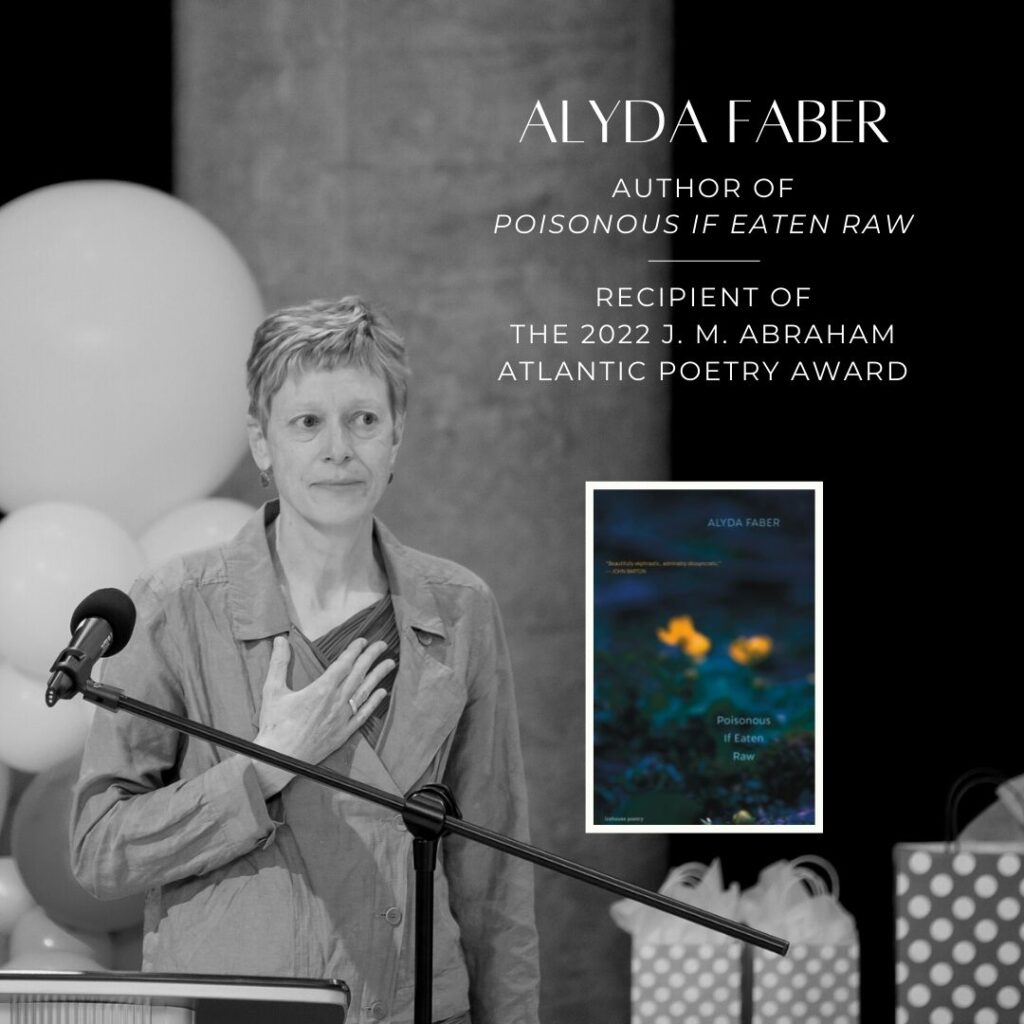 Alyda is the author of Dust or Fire, Berlinale Erotik, and Poisonous If Eaten Raw. Her poetry has appeared in numerous magazines and journals, including Riddle Fence, the Malahat Review, Contemporary Verse 2, and the Fiddlehead. She teaches at the Atlantic School of Theology in Halifax.
In this experimental long poem sequence (Poisonous if Eaten Raw), Faber transforms the portrait poem into runic shapes, ice shelved, sculpted, louvered on a winter shoreline. Twenty years after her mother's death, Faber untethers herself from the mother she thinks she knows with wild analogies: depicting her mother variously as King Lear's Kent, a Camperdown elm, a black-capped chickadee, Neil Peart, Pope Innocent X, and a funnel spider. While embodying the passionate relationship between mother and daughter, Faber's poems also expose the thorn in the flesh — the inability of mother and daughter to give each other what they most want to give. Endlessly discovered, yet ultimately unknowable, the poet's mother is complex, mystifying, and unwavering: courageous in her decision to leave all that she knew behind; bewildering in her fidelity to a damaging marriage; steadfast in her devotion to a God who is at once adamant and the source of ephemeral beauty.
About Poisonous if Eaten Raw, the jury said:
"What shape does the mother- / daughter passion assume / after the death of the mother?" This is the question at the heart of Alyda Faber's transformative collection, Poisonous if Eaten Raw. With language that emerges from the underneath of things, Faber's surreal portraits/possibilities are fraught with an ontological yearning for connection. With imaginative daring, these poems reach across self and other, offering new ways to think about beauty and grief "like the rain, in all the ways it falls."
Original photography by Nicola Davison.
---