Ardath Whynacht, recipient of the 2022 Atlantic Book Award for Scholarly Writing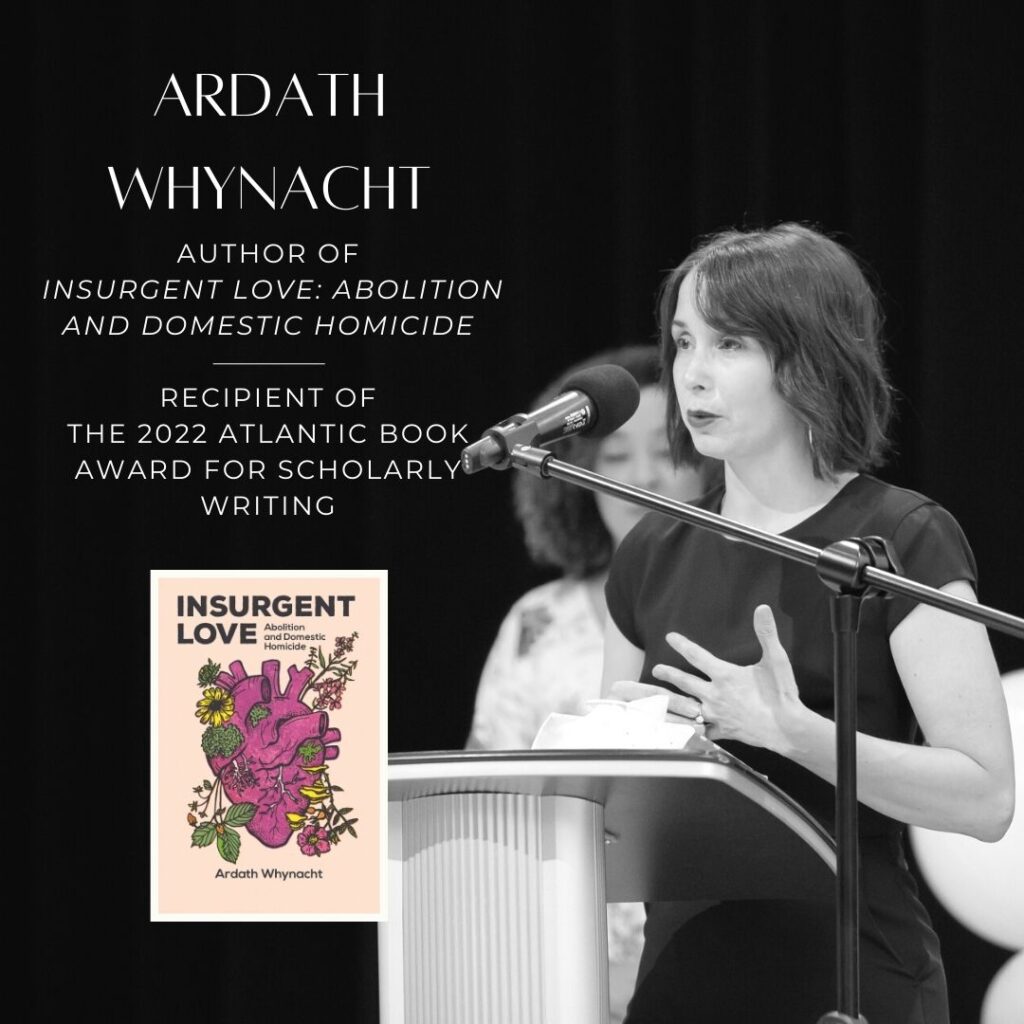 Ardath is an Assistant Professor in the Department of Sociology at Mount Allison University. She was a frontline youth worker for many years in organizations such as Leave Out ViolencE and Laing House and has more than a decade of experience conducting arts-based and participatory action research with youth with lived experience of mental illness. She was part of an adolescent psychiatry research and knowledge translation team at the IWK Health Centre and conducted a long-term study with survivors of inpatient care and incarceration who live with a diagnosis of borderline personality disorder. She is interested in how lived experiences with homophobia, white supremacy and settler colonialism manifest in self-harm, anxiety, and long-term, chronic mental health challenges for young people. She is currently the principal investigator on a SSRHC grant that explores transformative justice approaches for high-risk family violence and has a forthcoming book on abolition and intimate partner homicide. She is a past director on the board of the Nova Scotia Rainbow Action Project and a current board member of Avalon Sexual Assault Centre in Halifax.
Here's a closer look at her award-winning book, Insurgent Love:
Domestic homicide is violence that strikes within our most intimate relations. The most common strategy for addressing this kind of transgression relies on policing and prisons. But through examining commonly accepted typologies of high-risk intimate partner violence, Ardath Whynacht shows that policing can be understood as part of the same root problem as the violence it seeks to mend and provides an abolitionist frame for the most dangerous forms of intimate partner violence. This book illustrates that the origins of both the carceral state and toxic masculinity are situated in settler colonialism and racial capitalism and sees police homicide and domestic homicide as akin. Describing an experience of domestic homicide in her community and providing a deeply personal analysis of some of the most recent cases of homicide in Canada, the author inhabits the complexity of seeking abolitionist justice. Insurgent Love traces the major risk factors for domestic homicide within the structures of racial capitalism and suggests transformative, anti-capitalist, anti-racist, feminist approaches for safety, prevention and justice.
Here's what the jury has to say about Insurgent Love: Abolition and Domestic Homicide:
"This book offers a level of analysis that is readable, if somewhat arresting. Insurgent Love confronts its immediate subject matter – the most extreme forms of domestic violence – normally as a principally sociocultural and political phenomenon, rather than the actions of a warped individual psychopathy. This book engages contemporary debates to make its arguments."
Original photography by Nicola Davison.
---