Chad Lucas, recipient of the 2022 Ann Connor Brimer Award for Atlantic Canadian Children's Literature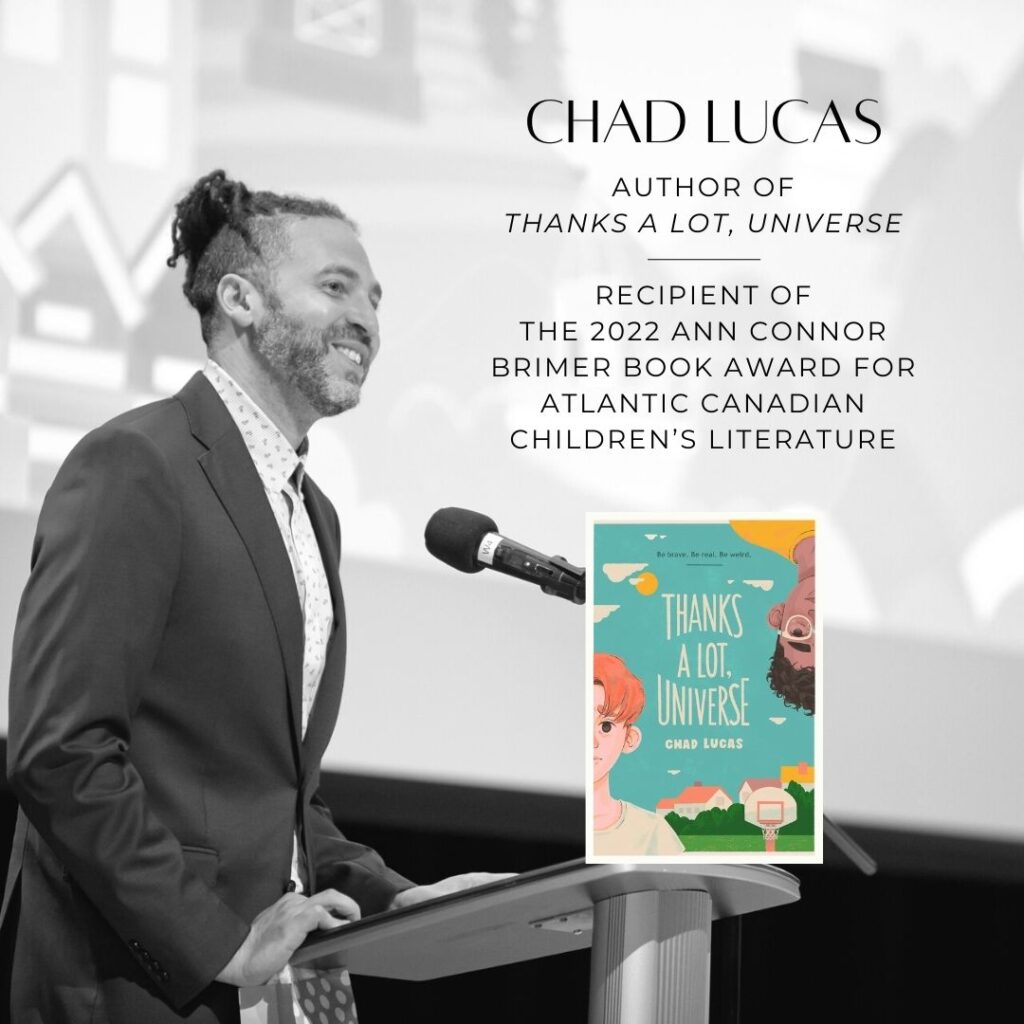 Chad has been in love with words since he attempted his first novel on a typewriter in the sixth grade. He has worked as a newspaper reporter, communications advisor, freelance writer, part-time journalism instructor, and parenting columnist. His debut novel Thanks a Lot, Universe was named a Junior Library Guild Gold Standard Selection and a best middle grade book of 2021 by the School Library Journal, New York Public Library, and Canadian Children's Book Centre. His second book, Let the Monster Out, released in May 2022. A proud descendant of the historic African Nova Scotian community of Lucasville, he lives with his family in Nova Scotia. He enjoys coaching basketball, and he's rarely far from a cup of tea.
Here's a bit on Thanks a Lot, Universe, which follows two middle schoolers, Brian and Ezra, as they try to understand each other and themselves:
Brian has always been anxious, whether at home or in class or on the basketball court. His dad tries to get him to stand up for himself, and his mom helps as much as she can, but after he and his brother are placed in foster care, Brian starts having panic attacks. And he doesn't know if things will ever be "normal" again… Ezra's always been popular. He's friends with most of the kids on his basketball team—even Brian, who usually keeps to himself. But now, some of his friends have been acting differently, and Brian seems to be pulling away. Ezra wants to help, but he worries if he's too nice to Brian, his friends will realize he has a crush on him… But when Brian and his brother run away, Ezra has no choice but to take the leap and reach out. Both boys have to decide if they're willing to risk sharing parts of themselves they'd rather hide. But if they can be brave, they might just find the best in themselves—and in each other.
Here's what the jury had to say about Thanks A Lot Universe:
"From a title that's open to more than one interpretation to a final page with just enough loose ends, Thanks a Lot, Universe is a book you can't put down. How did Chad Lucas get the voices of two 13-year-old boys pitch-perfect and completely distinct? How did he slip in so easily that one of these boys is white and the other black? How did he deal in depth with mental illness, the underground economy, the risks of coming out gay, social anxiety, and racism, yet at the same time write a novel imbued with the power of kindness and laugh-out-loud, guy-humour? Bullies and basketballs, guitars and girls, parents and panic attacks, they're all there. And the kicker? This is Chad Lucas's debut novel."
Original photography by Nicola Davis.
---