Michelle Butler Hallet, recipient of the 2022 Thomas Raddall Atlantic Fiction Award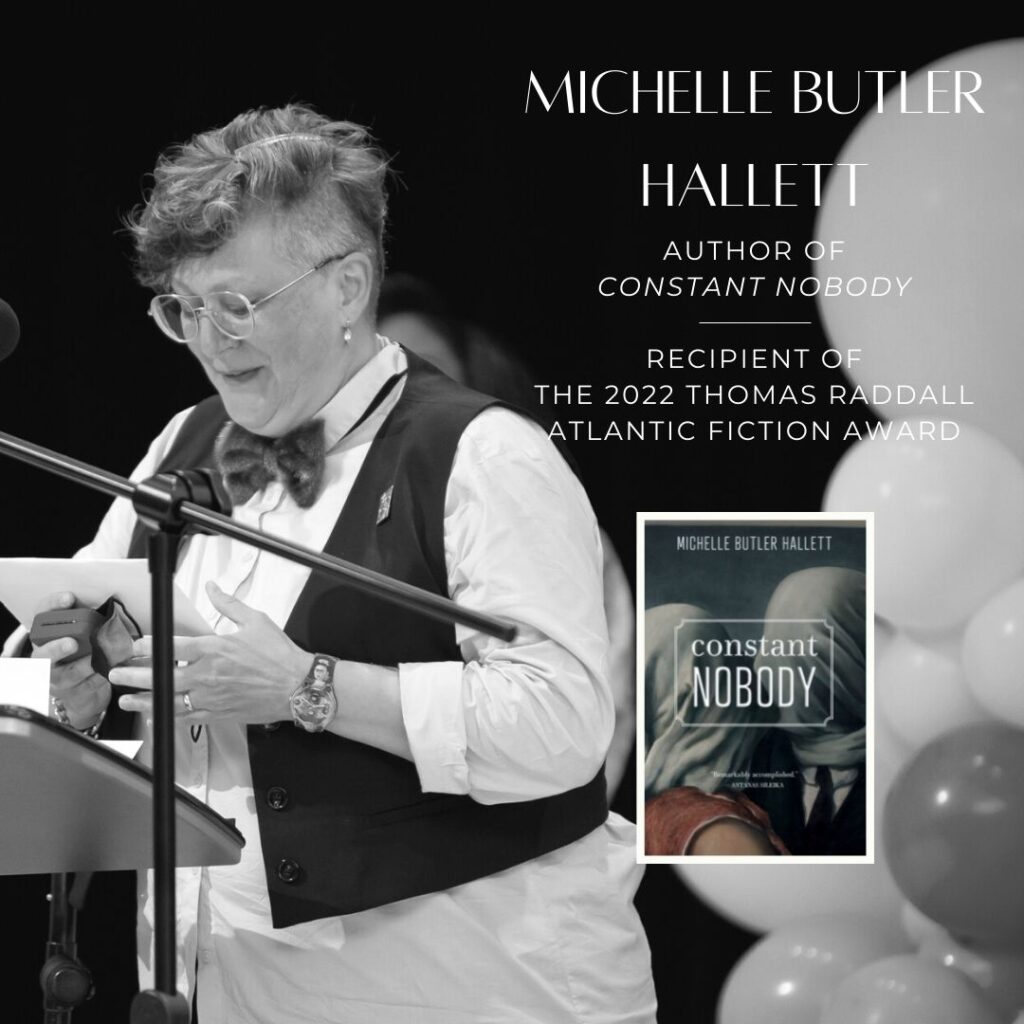 Michelle Butler Hallett is the recipient of the 2022 Thomas Raddall Atlantic Fiction Award for her book Constant Nobody, which was published by Goose Lane Editions in March 2021.
Michelle Butler Hallett, she/her, is a history nerd and disabled person who writes fiction about violence, evil, love, and grace. The Toronto Star describes her work as "perfectly paced and gracefully wrought," while Quill and Quire calls it "complex, lyrical, and with a profound sense of a world long passed." Her short stories are widely anthologized in Hard Ol' Spot, The Vagrant Revue of New Fiction, Everything Is So Political, Running the Whale's Back, and Best American Mystery Stories, and her essay "You're Not 'Disabled' Disabled" appears in Land of Many Shores. Her most recent novel, This Marlowe, was longlisted for the ReLit Award and the Dublin International Literary Award. Her first novel, Double-blind, was shortlisted for the Sunburst Award. Butler Hallett lives in St. John's. Constant Nobody is her fifth novel.
In Constant Nobody, the time is 1937. The place: the Basque Country, embroiled in the Spanish Civil War. Polyglot and British intelligence agent Temerity West encounters Kostya Nikto, a Soviet secret police agent. Kostya has been dispatched to assassinate a doctor as part of the suppression of a rogue communist faction. When Kostya finds his victim in the company of Temerity, she expects Kostya to execute her — instead, he spares her. Several weeks later, Temerity is reassigned to Moscow. When she is arrested by the secret police, she once again encounters Kostya. His judgement impaired by pain, morphine, and alcohol, he extricates her from a dangerous situation and takes her to his flat. In the morning, they both awaken to the realities of what Kostya has done. Although Kostya wants to keep Temerity safe, the cost will be high. And Temerity must decide where her loyalties lie. Writing about violence with an unusual grace, Michelle Butler Hallett tells a story of complicity, love, tyranny, and identity. Constant Nobody is a thrilling novel that asks how far an individual will go to protect another — whether out of love or fear.
About Constant Nobody, the jury had this to say:
"The writing is fresh, skillful, and utterly compelling; the flawed protagonists are gradually and carefully revealed with sensitivity and depth; the times are harrowing. What we learn about their actions will haunt, confuse, and often sicken—laying bare the damages war causes on all sides. Constant Nobody is a powerful book in which both profound inhumanity and unlikely tenderness are real and believable. It's a novel for our times, shockingly reverberating right up to the present."
Original photography by Nicola Davison.
---