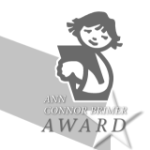 Call for Nominations
The Ann Connor Brimer Book Award for Atlantic Canadian Young People is seeking nominations for the 25th annual Ann Connor Brimer Award, a $2,000 prize for a book which makes an outstanding contribution to writing for Atlantic Canadian young people. The purpose of this award is to recognize excellence in writing. The award will be presented in April 2016 during the Atlantic Book Festival.   Assistance with travel expenses is available to enable the winning author to attend the award ceremony.
Eligibility Criteria:
Author must be alive and residing in Atlantic Canada at time of nomination. Residence is determined by author's mailing address
Book is intended for youth up to and including the age of 16
Book was published in Canada between October 15, 2014 and October 15, 2015
Book must be readily available in print (Reissued titles are not eligible)
Fiction or non-fiction (except textbooks)
Selection Committee reserves the right to accept or reject nominations (Reissues are not eligible)
Excellence in writing and strong appeal for youth are primary considerations
Submissions:
Nomination Form:
Brimer Nomination Form for 2015 (PDF)
Send completed nomination form with 5 copies of the title and a $10 entry fee to:
Lara McAllister
Woodlawn Public Library
c/o Halifax Public Libraries
60 Alderney Drive
Dartmouth, NS B2Y 4P8
(cheques made payable to Ann Connor Brimer Award)
For more Information call: (902) 490-5886
E-mail: mcallil@halifax.ca
The deadline for receiving nominations, including books and cheque is October 20, 2015.