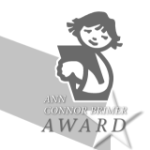 Complete submission information for all five Awards administered by the Writers Federation of Nova Scotia is available here.
The Ann Connor Brimer Award for Atlantic Canadian Children's Literature celebrates outstanding contributions to writing for Atlantic Canadian young people.
Starting in 2016, the focus of this annual award alternates between young adult literature and children's literature. For the purposes of this award, young adult literature is for readers aged 12 to 17, and children's literature is for readers up to 11 years old.
Submissions are evaluated for their originality, creativity, and quality of writing. Illustration quality is not considered. Each year, the award presents a $5,000 prize to the writer of the winning title and $250 each to the writers of the two shortlisted titles. The next award will be presented in May of 2023 during the Atlantic Book Awards Festival.
Please visit the Writers' Federation of Nova Scotia webpage for this Award to submit and see a list of past winners.
Submission Deadline For 2023 Awards: November 1, 2022